Consider locking in your mortgage if you can't take the rate-hike heat!
Date Posted: June 19, 2017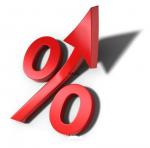 Canadian homeowners who hold variable-rate mortgages may be losing sleep over the increased talks about a potential rate hike by the Bank of Canada, coming as soon as July, should consider locking their rates in now.
In order to qualify for a variable-rate mortgage, homeowners are required to qualify on a much higher rate, in order to ensure they can withstand a significant rate-hike. However, rates may be climbing much quicker than anyone is expecting.
The Bank of Canada has kept its rate on hold at 0.5% after cutting it twice in 2015, in order to boost the economy. Recent comments by the Bank of Canada and prompted economists to speculate that the Bank will be increasing its key interest rate sooner, rather than later.
An increase in the Bank of Canada's overnight rate will prompt Canadian lenders to increase their prime rates, which will then push the rate charged on variable-rate mortgages higher.
Historically, variable-rate mortgage holders have done better than fixed-locked mortgage holders - However, the difference between variable & fixed rates have been at all-time lows recently.
If you are unsure of whether locking in your mortgage is the right choice for you, or whether you aren't sold on the variable vs fixed rate debate for an upcoming house purchase, contact a mortgage broker today for a free evaluation of your current scenario.